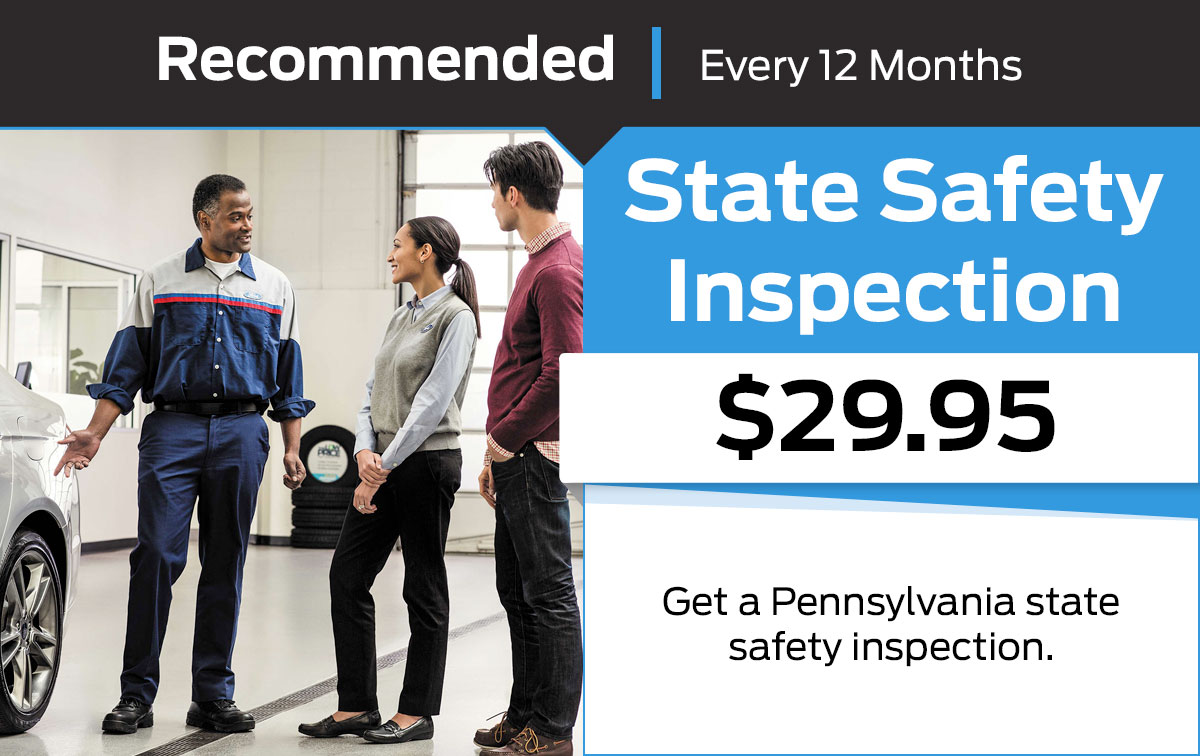 Pennsylvania State Vehicle Inspection at Chapman Ford of Columbia, PA
Is your vehicle safety compliant? Pennsylvania mandates that vehicles get a safety inspection to promote safety on the roads. The goal is to prevent crashes that cause injuries or death. Safety inspections must be completed by an approved service provider. We are an official Pennsylvania Department of Transportation approved inspection station at Chapman Ford of Columbia, PA. Schedule your Pennsylvania state vehicle safety inspection conveniently online or call us today to set up your appointment.
Does my Vehicle Require an Inspection?
Yes, your vehicle requires an inspection as Pennsylvania requires all passenger cars, light-duty trucks, medium, and heavy-duty trucks. This includes all Ford models. Although inspection criteria vary across vehicle types, all vehicles on the road must get a Pennsylvania state vehicle inspection.
Pennsylvania State Inspection Overview
We use the approved service checklist issued by Pennsylvania to inspect all necessary components. Our certified technicians will inspect these components:
Match the Vehicle Identification Number with registration
Visual assessment of emissions parts for anti-tampering purposes for alterations or removal
Safety equipment - windshield wipers, horn, suspension, steering, brakes, fuel system, tires & wheels, speedometer, and seatbelts.
Windshield, mirrors, or rearview glass compromised
All lights must be operational
Chassis and body for leaks or rust
Anything else that provides an increased safety risk
Interpreting the Results
The inspection checklist contains everything inspected with a "yes" or "no" result for some components. Others are granted a range of acceptability including acceptable but with caution requiring future maintenance. We recommend fixing the problem promptly no matter what the problem contains the risk given that the inspection found an excessive risk with the maintenance needed.
---
Did Your Vehicle Receive a Caution Requiring Future Maintenance or Failed the Inspection?
Getting an inspection that includes caution requiring future maintenance or failing the inspection should prompt immediate maintenance. It is a bad idea to drive with reduced safety, and illegal to drive with a failed inspection. Driving without an approved inspection certificate can result in a citation with a $500 fine. Fixing the problem not only improves safety on the road but vehicle reliability while driving. It's always the best bet to fix problems quickly before they worsen to cost even more down the road. We can assist with the service that your vehicle needs to operate as safely as possible at Chapman Ford of Columbia, PA.
 Schedule Service