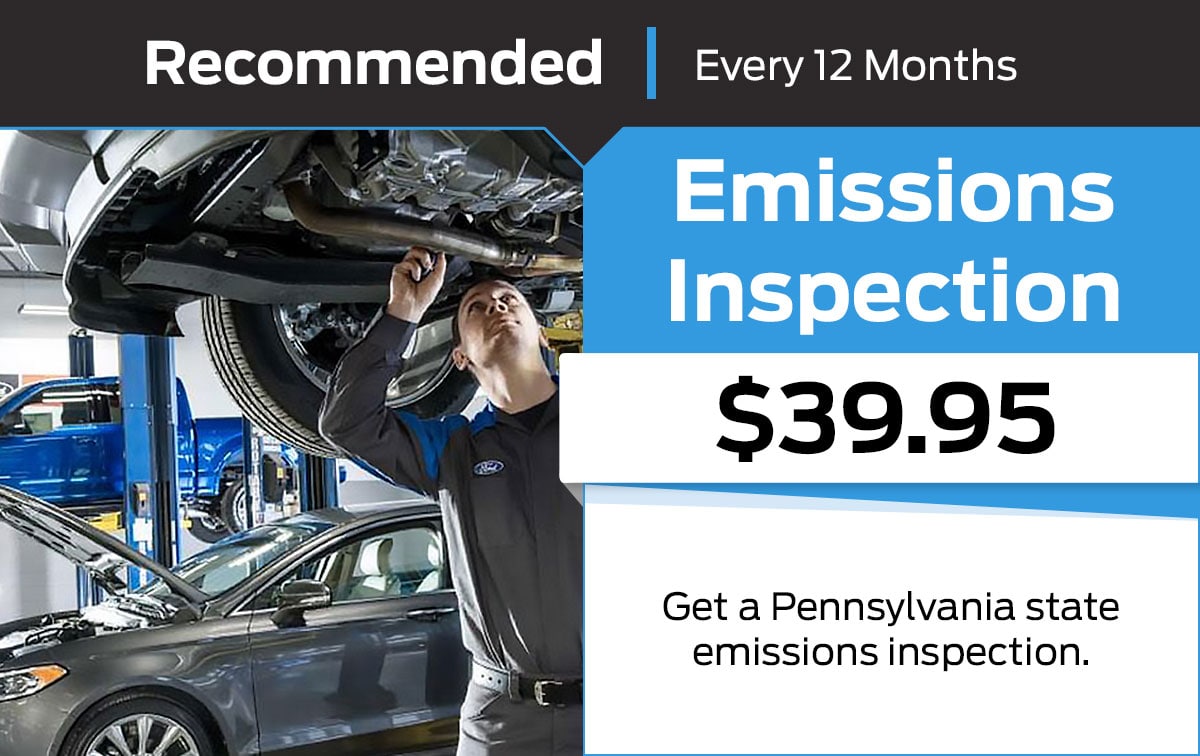 Pennsylvania State Emission Inspection
The Pennsylvania state emissions inspection can certainly be confusing, whether you're new to the Keystone state's roads or have owned a vehicle here for years. At Chapman Ford of Columbia, we're drivers in this state too, and we know that you want to make sure you're on the road safely and legally. We invite you to schedule your Pennsylvania state emissions inspection with us (with our special offer of $39.95, our inspection is one of the most affordable around). In the meantime, here are some things you should know about what goes into this inspection and why it is performed.
What Exactly is the Pennsylvania State Emissions Inspection?
The requirement for the emissions inspection also comes not from the state, but from the federal-level Environmental Protection Agency (EPA). In 2002, two different local environmental organizations filed suit against the state of Pennsylvania for its slowness in adopting the EPA's vehicle emissions standards. By the spring of 2003, the state emissions inspection was born, mandating that all vehicles registered in the state meet clean air standards. The emissions inspection is now part of your vehicle's annual safety inspection in many counties, although certain vehicles are exempt from it.
How Do I Know if My Vehicle is Exempt?
There are some cases where your vehicle may be exempt. If the vehicle is registered as a classic or antique vehicle, or if you've owned the car for one year or less and drove less than 5,000 miles in that time. In these cases, you may be issued an emissions inspection waiver, and it will be valid for one year.
How is the Pennsylvania State Emissions Inspection Performed?
For most vehicles (those made in 1996 or sooner), running an on-board diagnostics check will be the bulk of the inspection. Basically, the on-board diagnostics check will be where a certified mechanic (like the professionals at Chapman Ford) connect to your vehicle's computer system and check your engine and emissions systems for any maintenance codes that require attention. If any are found, the issue(s) will be investigated further. Other components of the inspection include an idling test (checking for dangerous emission levels while your car is idling), a tailpipe test, and a gas cap test. Both the tailpipe test and the gas cap test will also indicate if there are any dangerous fume levels being emitted.
---
Don't Wait to Schedule Your Emissions Inspection for your Ford!
You can face state fines if you skip your annual Pennsylvania state emissions inspection, and in some cases, you may not be able to renew your vehicle registration. It's also worth pointing out that your emissions inspection is a great time for our service center to run full diagnostic tests on your Ford to spot any potential issues and get them fixed before they become more serious. Check out our special offer emissions test for $39.95, and give our team at Chapman Ford of Columbia a call today to schedule!
 Schedule Service