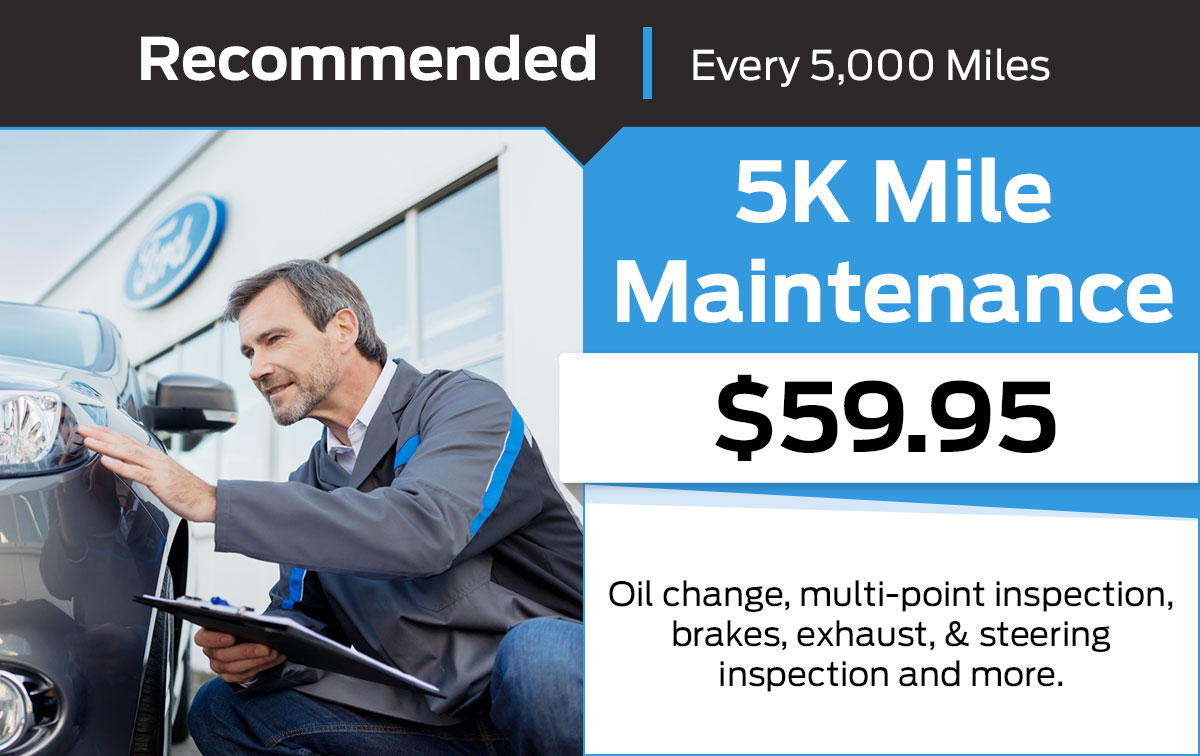 Visit Chapman Ford of Columbia, PA for Ford 5,000-Mile Service
At Chapman Ford of Columbia, serving Mountville and Marietta, we want to help you get the most out of your Ford. To do this, you'll need to have it brought in for regular service. Bundling services together and having them performed at the same time is a great way to save, and that's exactly what you can do with our 5,000-mile service. After your new Ford has been driven 5,000 miles, visit our service department! Find out more about how to save with this service bundle here.
Services Included in the Ford 5,000-Mile Service at Chapman Ford of Columbia
When you take the drive from Wrightsville or Mt. Joy to visit Chapman Ford of Columbia for this service, our technicians will:
Perform an oil change: Fresh engine oil is crucial to your engine's wellbeing and longevity, so getting new Ford-approved oil at 5,000 miles is best.
Perform a tire rotation: Your tires don't wear down at even rates. Having them rotated regularly can help keep you from having to replace the tires prematurely. While our technicians rotate your tires, they'll also give them a physical inspection to ensure they're free of damage. They'll also check the tire pressure, making adjustments if needed.
Top off the windshield washer fluid: This fluid can help you see clearly, so it's vital that you have enough!
Lubricate the locks and hinges: Regular lubrication of these parts can help you avoid rust and other trouble in the future.
Check the exterior lights and the horn: Both of these features are important safety features, so we'll check to make sure that they're all functioning exactly as they should be.
Perform a four-wheel brake inspection: We'll check the entire brake system, including brake lines, rotors, calipers, brake fluid level, and brake pad lining thickness.
Inspect the exhaust system: Including the hangers, steering system, and drive belt. Failure in these systems means trouble, so we'll make sure yours are in good condition.
---
Schedule Ford 5,000-Mile Service at Chapman Ford of Columbia, Your Local Ford Dealership
At Chapman Ford of Columbia, we make it easy for you to get exceptional Ford service. Use our online service scheduling tool to find the day and time that work best for you. Since we offer Saturday service hours, it's even easier to find time! Then, head to our service department when your appointment comes. You can enjoy our comfortable waiting area or take advantage of our courtesy transportation shuttle. Either way, we look forward to seeing you at Chapman Ford of Columbia.
 Schedule Service