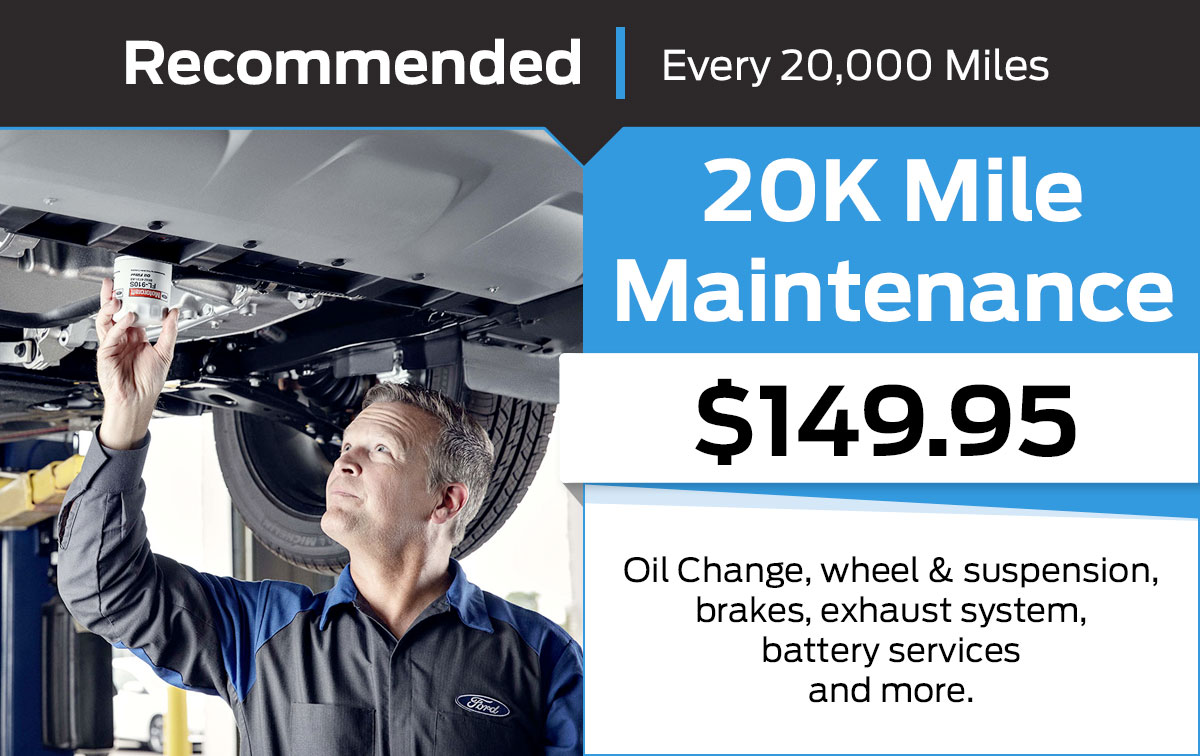 Certified Ford 20,000-Mile Interval Service in Columbia, PA
Is your Ford approaching the 20,000-mile marker? At Chapman Ford Columbia, we offer certified Ford 20,000-mile service needed to get the most out of your vehicle. Our services are completed by certified technicians that know your Ford inside and out. Service includes several inspections and services that need to be completed at the 20,000-mile interval. Schedule your service conveniently online or call us today to schedule an appointment at Chapman Ford of Columbia, PA.
Major Engine Maintenance & 20,000-Mile Interval Service Explained
Vehicles last longer when the primary systems and components get the maintenance that they need to better serve overall vehicle performance and reliability. Many components, such as fluids and filters, have essential roles but have short lives. These components have routine maintenance intervals that often overlap as miles accumulate. The Ford 20,000-Mile service is about inspecting primary systems while taking care of the maintenance services that are due at this mileage with the overarching goal to get your Ford the longest life and best performance along the way.
Why Should I Get Ford 20,000-Mile Service?
Major maintenance intervals are recommended for all Ford models because routine maintenance is proven to assist your vehicle in achieving several benefits as a vital transportation source. You should consider these benefits of getting routine maintenance as recommended if you are on the fence about scheduling service:
Pleasant driving experience - Nothing will give you peace of mind while driving like a well-maintained car. A poorly maintained car will increase anxiety about how your vehicle will perform, especially as miles accumulate.
Fuel efficiency - Getting routine maintenance such as oil changes as recommended to keep the engine running at specifications that enhance fuel efficiency.
Warranty coverage - Warranties usually require scheduled maintenance to preserve the coverage.
Resale value - Routine maintenance improves your vehicle's condition and performance. This preserves its value when negotiating a future sale.
Safety - A well-maintained car is a safer car. You need primary systems, such as the suspension, power steering, and brakes, to be in good condition and work properly for safety while driving.
Ford 20,000-Mile Service Overview
The Ford-20,000-mile service package involves primary system inspections with routine maintenance services.
Services
Here are the services included in the Ford 20,000-mile service at Chapman Ford of Columbia, PA:
Lubricate Front Suspension, Driveline, Steering System, Hinges, and Door Locks
Windshield Wiper Fluid Replenishing
Battery Terminal Service with Electrical Test
Inspections
We will inspect these systems and components when you get your service at Chapman Ford of Columbia, PA:
Brakes - all wheels
Lights
Horn & Windshield Wiper Operation
Engine Cooling System - Hoses & Radiator Pressure Test
Heater Hoses for Leaks
Exhaust System, Hangers & Heat Shields.
Drive Belts
Fuel Lines
 Schedule Service